Dr. Lauren F. Williams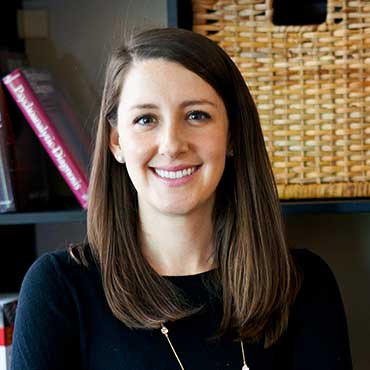 Licensed Psychologist
Dr. Lauren F. Williams is a licensed psychologist in Maryland and Washington D.C. Dr. Williams conducts individual therapy and completes psychological assessments for children, adolescents and adults. In addition, Dr. Williams provides supervision for graduate students in clinical psychology.
Dr. Williams accepts appointments at our Maryland location.
Education: University of Maryland, College Park, B.S. in Psychology; George Washington University, M.A. in Clinical Psychology; George Washington University (2011), Doctor of Psychology (Psy.D., APA-Accredited) (2013).
Internship and Post-Doctoral Training: Pre-doctoral internship at Newark Public Schools in Newark, New Jersey. Post-doctoral training at Mid-Atlantic Psychological Services. Provided individual and group therapy to adolescents and young adults, completed psychoeducational and clinical evaluations and supervised graduate students.
Credentials: Licensed Psychologist in State of Maryland; Licensed Psychologist in Washington, D.C.; Certified School Psychologist in New Jersey.
Membership: Maryland Psychological Association.
Services Provided: Individual therapy with children, adolescents and adults; comprehensive evaluations with children, adolescents, and adults; admissions testing, consultation with schools; supervision of graduate students.
Expertise:
Therapy: Anxiety, Depression and Mood Disorders, Relationship Issues, School Issues, Grief, Coping Skills, Adjustment Disorders, Sleep Issues, Change of Life Issues.
Assessment: Emotional and Behavioral Issues, Cognitive/Academic Evaluations, Learning Disabilities, Developmental Delays, and ADHD.
Dr. Williams is trained in psychodynamic therapy, which guides her approach to treatment and assessment. She focuses on understanding each person as a whole and helps clients identify and understand their specific patterns in coping, decision-making, and interpersonal functioning. Through therapy, she aims to help her clients utilize their areas of strength to promote resiliency and emotional growth. Dr. Williams has a range of clinical experiences including working in public school districts, private practice and outpatient settings.
In addition to therapy, Dr. Williams's area of expertise is in psychological assessment. Through her assessments, Dr. Williams identifies areas of strength and weakness and aims to help her clients understand why certain emotional or behavioral patterns are present in their lives. Her assessments are used to clarify diagnoses, to guide treatment plans and are often provided to schools for educational and behavioral planning. She has experience attending student support team meetings and special education meetings to help schools provide accommodations and interventions to support students' educational and social-emotional growth.